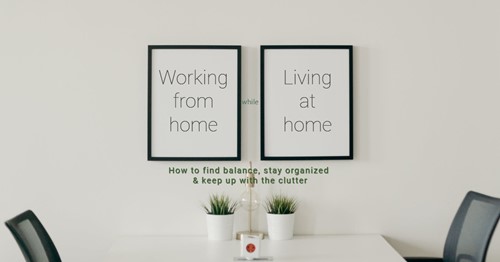 We've all gone over most of the regular work from home tips, such as taking breaks, setting the correct work hours, maintaining a morning routine, etc. But occasionally, we're left wondering how to keep a work-life balance while staying on top of home life, home maintenance, video call schedules and keeping the mess to a minimum.
Here are a few simple life hacks for maintaining an efficient, clutter-free personal life while working remotely:
Keep it organized
Just as you have working hours, your working utensils should also have hours of operations. For example, if you have a notebook or laptop that you normally keep out for quick notes or impromptu meetings, be sure to pack them up at the end of your meeting schedules or day.
Keeping things put away during nonworking hours is an excellent way to keep the clutter down while setting clear expectations for both you and your household.
If you don't have a bag or place to keep your work items, try a small cubby in your home office or work area. This can either be a 4×4 cubed space, or a custom piece built during a weekend DIY project. Just make sure the space isn't too small, or it could have the opposite effect.
Get a few breaks in
It's imperative to take breaks while working from home because of how easy it is to get sucked into your work. Your environment is familiar, you're focused and ready to tackle your day. However, once in that cycle, it's often difficult to break out of it.
Set constant reminders for yourself to take a break. If you don't think you'll be able to pull yourself away from your work, try adding a task list to that break. For example, take a fifteen-minute break and get some fresh air. While you're outside, try tidying a cluttered garden nook or sweep away any dead foliage or debris from your doorstep.
Keeping a short task list of things to be done around the house can force you to give your mind a breather while keeping your weekend chore load light. It's also a fantastic way to keep clutter down.
Maintain a routine
Keeping the same routine is a great way to figure out exactly what you need throughout your day. You'll know which dishes you need to keep at the forefront, wash times for your dish load, space needed for your work items and items used during your lunch break and a host of other conveniences to keep your day running smoothly.
You may also be able to keep your schedule's clutter down by making phone calls for home repairs or maintenance that may have been overlooked after working hours have concluded. After all, once work is done, many don't want to turn immediately to their to-do list after a hectic day.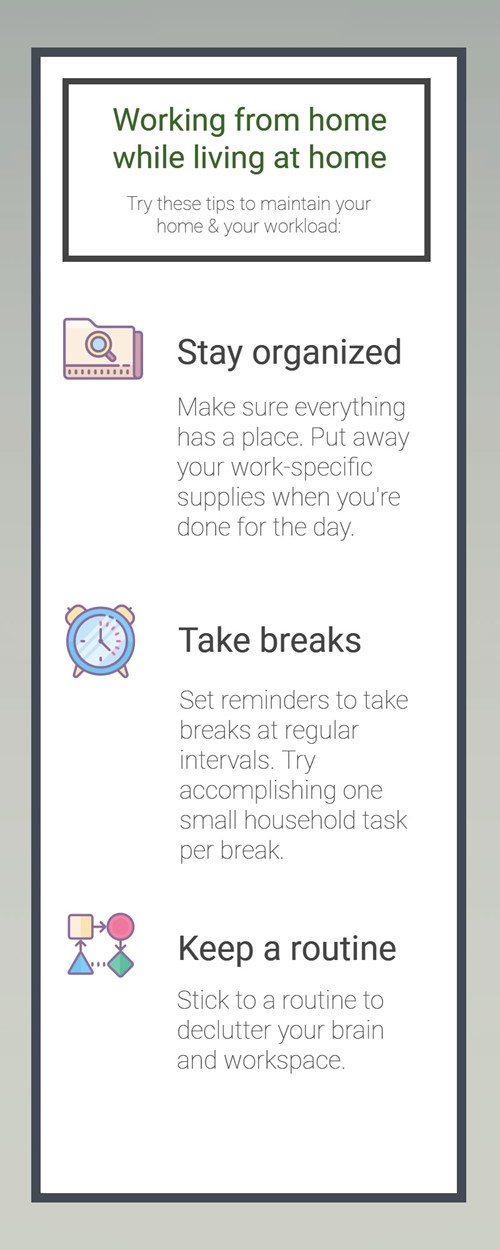 These are just a few work from home tips to keep your home free of clutter while you stay productive. Try incorporating other chores into your daily work routine and break schedule to find out what other home duties you can accomplish without scheduling extra time to do them.